Narcolepsy Advocates Went to Washington for Rare Disease Week
March 15th, 2019

In year's past, Narcolepsy Network was able to send our Executive Director or a board member or two to Rare Disease Week on Capitol Hill. This year, we were fortunate to send 20 advocates to be a voice for the narcolepsy community. Every year, the Rare Disease Legislative Advocates (RDLA), in coordination with the Everylife Foundation for Rare Diseases, hosts this free week-long event. It brings together rare disease community members from across the country to be educated on legislative issues, meet other advocates, and share perspectives with legislators.
The week kicked off on Sunday, February 24 with a cocktail reception and a documentary screening. Monday was devoted to an entire day of training. The morning kicked off with a welcome from Darlene Shelton, founder and President of Danny's Dose, whose mission is to change current emergency protocols for those with special medical needs. Then it was time to hear from a panel that was led by a White House Legislative staff member, the Senior Policy Advisor for the Office of Nancy Pelosi, and a Health Policy Director. The panel explained how the new Congress will impact healthcare policies in 2019.
Some of the takeaways from this topic included:
The main agenda for Congress is to lower the cost of prescription drugs. They want to focus on cures and innovations, but also, will try to lower the excessive profits that a pharmaceutical company can make.
The President's health initiative includes lowering drug costs and lowering out of pocket prices.
Congress would like to establish reimbursements for telemedicine to be able to better help patients who need it, regardless of location.
Congress will look to individual state's rare disease panels and use them as the experts. They will also look to see what state laws are working and how and if they can be implemented at the federal level.
They will also work to ensure that Medicaid will not put a barrier between rare disease patients and medical advances.
The next part of the morning included learning about specific "ask" that are important to the rare disease community. The panel focused on supporting newborn screening reauthorization, increasing funding for the National Institutes of Health (NIH) and the Food and Drug Administration (FDA), and the importance of the Rare Disease Caucus. Each advocate was asked to bring one of these topics to their member of Congress.
The first legislative ask dealt with the reauthorization of the Newborn Screening Saves Lives Act. This bill is critical for the expansion of existing programs that provide newborn screenings, support parent and provider education, and ensures laboratory quality and surveillance for newborn screenings. The reauthorization of the bill will help ensure that every infant is screened for conditions which have a known treatment. Currently, newborn screening reaches about 4 million babies born in the US every year. About 1 in 300 newborns will have a condition that can be detected through screening; the screens can detect certain genetic, metabolic, hormonal, and functional conditions that are not otherwise apparent at birth.
The second ask that advocates were tasked to speak to their legislators about was supporting a robust funding for the NIH and the FDA. While significant increases in funding have been made in recent years, the historical pace of healthcare inflation often outpaces annual funding increases. As such, the advocates asked their members of Congress to increase the annual discretionary funding for the NIH in the Fiscal Year 2020 Labor, Health and Human Services, Education Appropriations Act and an increase in funding for the FDA in the Fiscal Year 2020 Agriculture Appropriations Act.
Why does an increase in funding matter? The NIH is the world's leading funder of basic biomedical research, which supports breakthroughs in the treatment of diseases. The FDA plays a critical role in bringing cures into the hands of patients through the review and approval of innovative medicines and devices. An increase in funding for the FDA supports the systems and staff that move treatments through the review pipeline.
The NIH and the FDA are partners in the search for treatments for rare diseases. The NIH funds research, but therapies only reach patients if the FDA approves them. A robust funding of both agencies is important to the rare disease community.
The third and final ask that the advocates learned about was the Rare Disease Congressional Caucus. The Rare Disease Caucus is bipartisan (both Democrats and Republications) and bicameral (both the House and the Senate). Its objective is to be a forum for members of Congress to voice concerns, collaborate on ideas, start conversations between patients and the medical community, and build support for legislation that will improve the lives of those in the rare disease community. When the advocates met with their legislators, they were asked to encourage them to join the caucus. To see if your legislator is a member of this caucus go to https://rareadvocates.org/rarecaucus/. If they are not, use the Take Action button on the right-hand side of that page to encourage your legislator to join.
After a day of training, the advocates were armed with knowledge on how to present their case to their legislators. In total, the narcolepsy advocates met with legislators and their staff from states from New York to California.
Sharon Burkoth from Wisconsin shared this about her time in DC. "It was an honor to be able to represent Narcolepsy Network at Rare Disease Week, especially amongst so many other narcolepsy advocates! We learned about current innovations in health care, family support options, tools for advocacy, and so much more. There are some exciting things on the horizon."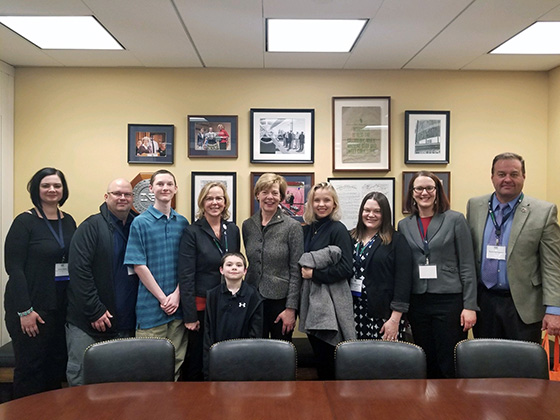 She added, "I find it extremely intriguing to learn about other rare diseases and being able to advocate next to them. We learn so much from each other. Most of all, we are stronger together, raising our voices louder together, and seeing change happen quicker together!"
Rare Disease Week equipped our advocates to be agents of change and it was deeply empowering and affirming to be there along with rare disease advocates from across the country.
Mike Heil, who traveled from Arizona to participate in Rare Disease Week, had this to say about this experience, "The opportunity to share my story at Rare Disease Week was initially very intimidating. Would anyone listen; would my story matter to the members of Congress? All of my hesitation and fear vanished the moment I arrived thanks to my fellow advocates, the Narcolepsy Network Board Members, and RDLA organizers. We were trained to be successful and impactful. I was inspired by my fellow advocates to do more in my community. The Board Members kept me stable when I started to crack. I was fully prepared to storm the hill and deliver on what I promised."
Rare Disease Week on Capitol Hill usually happens at the end of February. If you want to get involved, be sure to watch for an email or follow us on our social media. Find more pictures of the week on our Facebook, Twitter, or Instagram.
# # #
Date Created: March 15th, 2019
Last Updated: December 8th, 2020